PRODUCT / PCR PET & Ocean Bound Plastic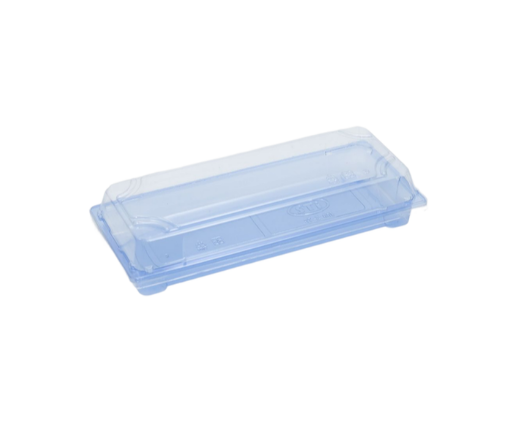 Sushi Tray-001
No:ST-001
The eco-friendly Sushi Tray has a durable and stackable design. A sushi tray is a wise option for your food, made from 100% PCR PET, such as GRS patented and certified recycled and non-polluting post-consumer recycled plastic material. This container is suitable for Japanese sushi packaging. Remove the side rigid so the visibility is much better for seeing through, and the food looks more delicious. They are 100% recyclable, 100% made, and inspected in Taiwan.
Eco-friendly Sushi Tray

The sushi tray size is 226mm x 98mm x 30.5mm. A great alternative to traditional paper or plastic, the disposable container offers the same sturdy function and easy cleanup. Enjoy the convenience of disposable trays.

We now offer transparent sushi lids with blue or black bottoms to let consumers see what they are buying.

Order Information

SPCS provides customized service, and the requirements of a minimum order quantity (MOQ) will vary by different materials (PCR PET/ Ocean Bound Plastic). If you'd like to customize your products, we'll be able to provide them with relevant specifications.

Features

With our PCR PET, you can reduce your carbon footprint as PCR resin consumes less energy than virgin resin. Effectively avoid plastic pollution by recycling plastic waste into plastic products make full use of non-renewable fossil resources.

Product Advantages

If PCR plastics can be used and made into plastic products, carbon emissions can be effectively reduced, and energy consumption can also be reduced. If more people use recycled plastics, the recycling of waste plastics will increase, and the operation mode of the entire plastic products industry will also be changed. This will reduce the incineration of plastics and be more helpful to environmental protection.

Eco-Friendly And Sustainable

The steady supply allows us to provide plastic-free products to meet your needs. Additionally, customized services enable customers to take advantage of non-standardized product experiences, creating a unique image. Customers can better understand the plasticity and diversity of this material by customizing it. A good reputation is expected to continue influencing many other potential customers in their countries. We have built long-term and steady-going business relationships with customers in North America, Europe, and elsewhere.