PRODUCT / Paper+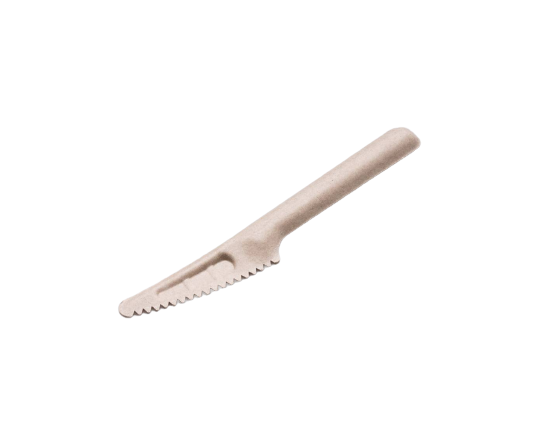 Eco-Friendly Knife
Eco-friendly Knives are certified by Flustix, TUV, INTERTEK, and PEFC. We continue applying for inspections and certifications from various countries to ensure you eat and use healthily. At the same time, there is no need to worry about environmental protection.
Zero Waste Eco-Friendly Knife

The eco-friendly knife length is 152 mm (6.0 inches). One of our most promising product lines is disposable Paper+ tableware/cutlery. We provide you with the best plastic-free solutions for your folk selection.

Order Information

SPCS provides customized service, and each product has a minimum order quantity. We can give you the correct specifications to customize your products.

Features

With our technology, you can have your tableware/cutlery products completely plastic free, most importantly, 100% recyclable. We are also welcome to customize design fabrication.

Product Advantages

To create environmentally friendly tableware/cutlery products, paper+ products are suitable for environmental recycling and can be decomposed naturally. These non-toxic and biodegradable amenity products are 100% made in Taiwan from pulp. It is reliable, eco-friendly, non-odorous, and 100% biodegradable.

Eco-Friendly And Sustainable

The steady supply allows us to provide plastic-free products to meet your needs. Additionally, customized services enable customers to take advantage of non-standardized product experiences, creating a unique image. Customers can better understand the plasticity and diversity of this material by customizing it. A good reputation is expected to continue influencing many other potential customers in their countries. We have built long-term and steady-going business relationships with customers in North America, Europe, and elsewhere.