PRODUCT / Paper+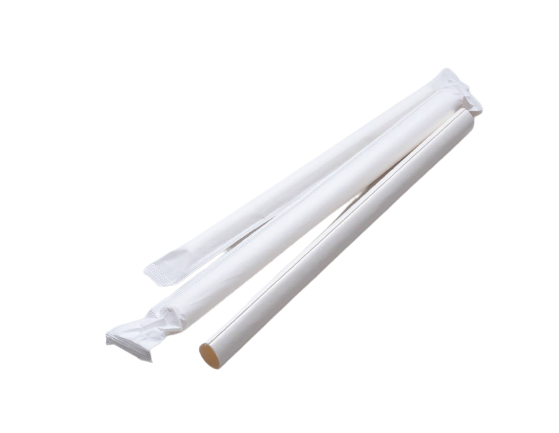 8mm Biodegradable Eco-Friendly Single-Use Straw
Eco-friendly single-use straw made from pulp is plastic-free. 100% made from biodegradable pulp and patented one-piece manufacturing method. The 6mm single-use straw is available individually wrapped. They are 100% recyclable, 100% completed, and inspected in Taiwan. Taiwan's Brand SPCS Provides A Plastic-Free Future With Eco-Friendly Straw

SPCS is committed to promoting and supporting the community. Our straws will add extra styles to your drinks and impress your customers. The straws are food-safe and compliant with strict food safety and materials regulations. Please create your custom straw and add your brand to it.
Environmentally Friendly Straw

The eco-friendly straw dimension is 8 mm (1/3 inch). There were estimated to be more than 23.5 billion discarded straws in 2018 globally. More than 30% of plastic straws were found at the seashell line. It is time to start plastic reduction. SPCS provides sustainable, eco-friendly single-use straws with a 30% reduction and 100% plastic-free.

Order Information

SPCS provides customized service, and each product has a minimum order quantity. If you'd like to customize your products, we can provide them with relevant specifications.

Features

With our patented one-piece manufacturing method, you can eliminate the tangle of multi-layer paper rolls and glue doubts. And, you can have your tableware/cutlery products completely plastic free, most importantly, 100% recyclable. We are also welcome to customize design fabrication.

Product Advantages

To create environmentally friendly tableware/cutlery products, these non-toxic and biodegradable straws are 100% made in Taiwan from pulps. You can eliminate the tangle of multi-layer paper rolls and the glue doubts. It is reliable, eco-friendly, non-odorous, and 100% biodegradable.

Eco-Friendly And Sustainable

The steady supply allows us to provide plastic-free products to meet your needs. Additionally, customized services enable customers to take advantage of non-standardized product experiences, creating a unique image. Customers can better understand the plasticity and diversity of this material by customizing it. A good reputation is expected to continue influencing many other potential customers in their countries. We have built long-term and steady-going business relationships with customers in North America, Europe, and elsewhere.